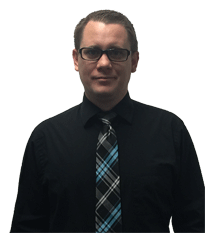 Steve Toliver
Resource Manager
Steve Toliver, a 15+ year veteran of Nu-Way, is a vital part of our commitment to Safety, Service and Solutions for all of our customers. Steve is the Resource Manager in Central Dispatch at our Corporate Office and is responsible for solving the challenges our customers face each and every day. From finding the right driver to cover an account to managing our truckload division, Steve finds a way each day to exceed our customers' expectations – not always an easy task but Steve comes into work every day excited about that challenge!
As Resource Manager, each day brings opportunities to maximize equipment utilization, wages, revenue, etc., all while making sure that we are safe and looking out for our customers' best interests.  Over his 15+ years, Steve has learned from others around him.  One of his proudest moments came when he was named to replace his retiring boss as Resource Manager.  Since then, Steve's dedication and willingness to learn has only grown stronger and he looks forward to being a vital part of Team Nu-Way for many years to come.   
Steve is a proud father of 2 young girls with his significant partner of 5 years, Ashley.  One of his most memorable moments came when he arrived at work one day and found his desk completely covered with boxes of diapers, many boxes of diapers for his soon to be expected baby girl.  While not at work Steve, Ashley and the girls enjoy taking strolls in the park.  Aside from spending time with his family, Steve finds peace working in his garden and making improvements around his house. 
We are thankful for Steve's desire to work until the job is done.  Without Steve and others like him, we would not be who we are, Nu-Way Strong!