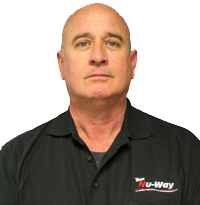 Steve Beyer
Professional Driver
Since Nu-Way's founding in 1994, over 20 years ago, Steve Beyer has been an exceptional example of driver, trainer, and team member of the Nu-Way family. Over the many years, Steve's never-ending dedication has been instrumental in the success of many accounts. Steve's career began with transporting vacuum cleaner parts between Texas and Illinois. Next, he helped kick off and solidify our start in the auto industry, transporting auto parts from around the country to a local automobile plant. Today, Steve is a member of an elite team of drivers delivering Cryogenics coast to coast, including Canada. He has trained numerous drivers in the handling of CO2, Nitrogen, gas and liquid helium, liquid oxygen, and Argon. Thank you for being an integral part of the Nu-Way team!
Steve's commitment goes beyond helping others succeed.  While logging millions of miles, his commitment to Nu-Way is demonstrated by the fact that he has never missed a single day of work.  On his days away from work, Steve enjoys working on his house, shooting, and riding his Harley's.

When asked about his most memorable moment at Nu-Way, Steve remembered a time when the company had just purchased a number of new trucks.  What happened next is what stuck in Steve's mind.  "Our President/CEO, Vernon Schrof, personally called me to say I would have first choice of the new equipment.  That was so cool, it was a champagne colored Volvo with a 5 disc CD changer".  Steve says that his proudest moment while at Nu-Way was the integral part he played in the start up of a new account involving Cryogenics.  Steve, along side other Nu-Way team members, acquired the necessary "know how" to perform the job, and perform it safely.  Today, Steve remains an important part of this business.

When asked about his future plans, without hesitation Steve replied, "I'm going to keep doing what I'm doing.  There is something about shutting those doors after a delivery and heading home.  You know you did your job".  Steve has been and continues to be a valuable member of the Nu-Way team.
Need a customized solution?
We listen, learn, collaborate, design and implement a distribution plan that works for your business.
Contact Us