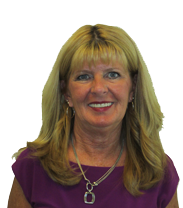 Peggy Beeney
Corporate Receptionist
For over 8 years, Peggy Beeney has been the voice, and the face of Nu-Way's Corporate Office. As the Corporate Receptionist, Peggy is the first voice that you hear and the first face that you see when visiting Nu-Way. In addition to her responsibilities as Corporate Receptionist, Peggy also processes paperwork from drivers throughout the U.S.
Peggy began her career in the transportation industry over 10 years ago.  Fortunately for us, 8 years ago, Peggy made the decision to join Team Nu-Way and hasn't looked back.  Over her tenure, Peggy's responsibilities have increased due to her willingness to help and her exceptional work ethic.  Even in such a high paced environment, Peggy enjoys each interaction, whether short or long, that she shares with drivers and customers.  Nu-Way would like nothing more than to see Peggy finish her career on our team and we know that Peggy feels the same way. 
When Peggy is not at Nu-Way, she enjoys spending time poolside, with her family, cooking out.  Over the years, Peggy's family has grown from 4 children to an additional 12 grandchildren whose ages range from infant to early twenties.  Peggy cherishes her family and good times.  One of her favorite memories at Nu-Way involved a "pool", of sorts, and owner Vernon Schrof.  At a company event with a dunk tank as part of the festivities, a fellow team member had an opportunity to dunk him.  To the delight of all, the target was hit and Vernon splashed down.  Peggy's contributions "hit the target" and make a "splash" each and every day at Team Nu-Way.  
Need a customized solution?
We listen, learn, collaborate, design and implement a distribution plan that works for your business.
Contact Us