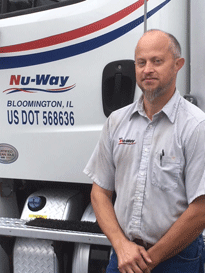 Kevin Bates
Professional Driver
Kevin Bates is quickly approaching his 19th year of service here at Nu-Way. Before joining Nu-Way he did straight truck deliveries for another company and saw a Nu-Way ad but held off on applying because he lacked the hazmat endorsement at the time. After some time, Kevin decided to move forward and got his endorsement and officially joined Nu-Way. He has been grateful for the decision as he feels like Nu-Way is a company that has his back and he considers each day a blessing to be working at Nu-Way.
Kevin helped at a couple accounts when he joined Nu-Way but shortly thereafter he switched to the dedicated account he's still on today. He currently delivers into dry cleaners and a full week for him includes over 50 deliveries. With his dedicated account Kevin knows each week where to go and has developed relationships our customers clients.
Outside of work Kevin enjoys time with his family and church. Kevin is married and has two Children as well as a grandchild. His family lives in the surrounding area and he enjoys the time he gets to share with them. Kevin has been a very long-term dedicated driver at Nu-Way and everyone at Nu-Way as well as the customer appreciates his loyalty. When asked about his dedication Kevin mentioned he has never called in sick over his career at Nu-Way and that is something he takes a lot of pride in. From all of us at Nu-Way, thank you Kevin for being a great example of what makes Nu-Way a truly dedicated provider.