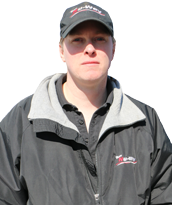 Jim Jones
Professional Driver
In 2005, Jim Jones joined Team NuWay as a driver covering a Chicagoland automotive parts account. Today, Jim's vast knowledge and dedication has allowed him to become a lead driver for the very account he started at in 2005. As a lead driver, Jim mentors new team members, helps monitor equipment maintenance schedules, and provides fill-in and backup coverage for the Midwest region.
Jim's position with NuWay is vital to the customers that NuWay services. He primarily works in Northern and Central Illinois, Northern Indiana, Eastern Iowa, and Wisconsin, but has also participated in startups in Southern Illinois as well as Columbia, NC. Jim's working knowledge of all the different NuWay accounts makes Jim an invaluable team member.
When asked about his most memorable moment at NuWay, Jim recalls a time while working in Milwaukee. "The night at the DC in Milwaukee, I was over confident with what I was doing. Unfortunately this over confidence cost me a fender on my truck. This incident put me back in my place and has helped me focus on the little things that we sometimes take for granted."   Jim's favorite part of being at NuWay is the variety of jobs offered as well as the unique challenges each may bring.
When asked about his future goals, Jim said "Whatever comes down the road I will just have to keep working hard." If the past 15 years are any indicator of this, Jim will continue to excel far into the future.
Need a customized solution?
We listen, learn, collaborate, design and implement a distribution plan that works for your business.
Contact Us