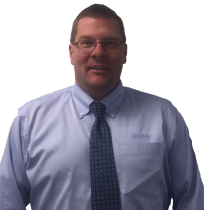 Greg McIntyre
Transportation Manager
Transportation Manager, Greg McIntyre is celebrating an impressive milestone at Nu-Way this year as he has been with the company now for a decade. Greg has a strong background in the transportation industry and in his more than 25 years he developed great processes and practices to ensure the success of the accounts he oversees.
Greg came to Nu-Way from what is now Deans where he spent 17 years.  He started at an early age there doing paperwork, cleaning the offices and then became a driver. After some time behind the wheel he transitioned to their logistics team and then he spent his final 7 years there as a transportation manager. After jumping back in the truck for a short time, Greg saw an opening for an account manager at Nu-Way in Chicago and joined the team with two accounts. 
Today Greg oversees 8 accounts in the Chicagoland area handling a flooring, healthcare, steel and Ag products.  He works very closely with drivers as well as handles a lot of the day to day workflow directly with clients. Greg takes a lot of pride in keeping the wheels running at Nu-Way. When bad weather lingers he is there ahead of time working with drivers to prep the trucks and make sure we continue business as usual.
Greg believes a large part of Nu-Way's success is that everyone is working towards the same goal. He cherishes the family atmosphere and feels like the people here are one team. When issues do arise he likes that he can work directly with the people needed and there aren't barriers up to prevent him from solving the problem.
Greg is a proud father of Jack (19) and Megan (15). He enjoys spending time with kids and going on trips with them.  Both kids are very active and Greg is happy his job allows being there to support them. Greg also enjoys playing golf.
There is no doubt Greg is a team player and does whatever is needed to get the job done. Ask anyone around Nu-Way and they will tell you that Greg takes great pride in his work. Congratulations on 13 years and we look forward to many more!
Need a customized solution?
We listen, learn, collaborate, design and implement a distribution plan that works for your business.
Contact Us