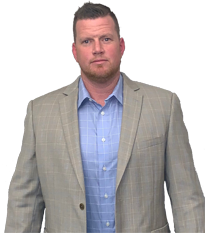 Andrew Ferguson
On-Site Manager
Andrew Ferguson joined Nu-Way in early 2016 as we started our Marcos Pizza account in Toledo Ohio. Since that time, he now oversees an additional flooring account in the Detroit area and continues to look to grow the Toledo/Detroit area that he manages. Long term, Andrew hopes to grow Nu-Way's market share to the point of another director role being needed to oversee that region.
Andrew came to Nu-Way with industry experience from a larger carrier and prior to that time he worked in the armored car industry. He also spent time serving our country as a Naval EOD serving in Afghanistan. In his current role, Andrew manages the day to day activities of the drivers and works hand and hand with the customer to ensure all their transportation needs are met. Andrew appreciates Nu-Way's focus on the driver and the respect shown to the drivers throughout the company.  His accounts reflect this mentality as he has fantastic relationships with his drivers continually retaining a consistent driving force.  In his time here, Andrew has enjoyed getting to know the people that make up Nu-Way and their willingness to help.  In particular, he commends the devotion of the recruiting department to not only onboard drivers but continue to help drivers throughout their careers at Nu-Way. 
One of Andrew most memorable moments was when the president Eric Kiefer came to visit him and the customer.  Due to an injury suffered by his daughter, Andrew had to reschedule the meeting.  Once Eric heard of the injury, Eric proceeded not only to visit Andrew and his family at their home, but also brought dinner with him.
Family is an important part of Andrew's life and he loves spending time with his kids. To help out, he has gotten involved with coaching the girls' soccer teams.  When not on the soccer fields, Andrew also enjoys golfing and traveling.
Andrew is a great example to both the drivers and the customers of our commitment to help and support however and wherever we can. People like Andrew are the key to making Nu-Way the transportation partner our customers can trust.