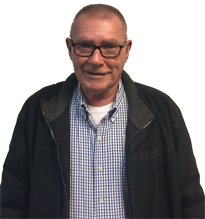 Wes Leenerman
Professional Driver
Wes Leenerman is an 18-year member of Team Nu-Way and drives for the Albertsons account. Prior to Nu-Way, Wes drove for an agriculture/machinery company, and in total has spent 40+ years in the cab of a truck. Over the 18 years with Nu-Way, as an OTR driver, Wes' excellent work ethic and dedication has allowed him to concentrate his efforts on 2 customers. Working a dedicated account has allowed Wes to know his customers and their expectations, allowing him to serve them in the Nu-Way spirit.
Being a driver based in Bloomington IL, our corporate office is fortunate enough to interact with Wes on a regular basis.  Our office employees enjoy Wes' positive outlook on life and the sense of humor he brings when he stops by.  Wes appreciates the people at Nu-Way and the fact that they are easy to get along with.  He understands, "it can't be good all the time but Nu-Way has been great about 98% of the time", and over 20+ years he considers that pretty darn good.
Aside from Wes' loyalty to Nu-Way, we are also grateful for his loyalty to our country while serving overseas in the Army.  Wes's loyalty doesn't end there.  This year, Wes and his wife Karen are celebrating 50 years of marriage.  Congratulations!  Over the years, they have enjoyed spending time together, and with friends, vacationing in Door County, Wisconsin.  When back home, Wes enjoys guns and bowling.
Wes' commitment to the company is apparent and his willingness to pass his knowledge to our younger drivers is invaluable.   Thanks Wes!
Need a customized solution?
We listen, learn, collaborate, design and implement a distribution plan that works for your business.
Contact Us