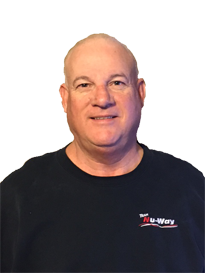 Vown Epperson
On site Manager
Vown Epperson came to Nu-Way over 9 years ago after serving nearly 35 years in the industrial gas field. Vown's role at Nu-Way is that of an On Site Manager, domiciled in the state of Kansas, overseeing multiple accounts in different states. Although the majority of his background lies in the industrial gas field, Vown's willingness to learn and understand other business within Nu-Way has allowed us to rely on him elsewhere.
Although he is not in the Corporate Office very often, he appreciates the support he receives from them, day in and day out, from where ever he may be traveling.  When Vown calls in to corporate, the team acknowledges the fact that he may be traveling, helps him with what he needs, while making him feel as if they were standing right next to him.  When Vown does make it to the Corporate Office, the family atmosphere is even more evident as when he is not.  He enjoys the comradery of all our employees, the hugs, the handshakes, the food and the memories he makes every time he is there.  One memory, a favorite of his, was seeing his boss get dropped in a dunk tank, in his dress clothes at a company cookout.
In his off time, Vown enjoys spending quality time with his wife outdoors.  Vown and his wife host camps at Wilson State Park, where they enjoy being with family and friends at the lake, camp fires and reminiscing.  When time permits, Vown also likes to "sneak" away to take in some hunting. 
When being interviewed for this story, Vown made it clear of how grateful he is for the commitment from the team at Nu-Way.  He says that everyone is always working to figure out how Nu-Way can best serve their customers.  Vown anticipates working at Nu-Way for many more years and when he retires, he and his wife plan on spending more time as camp hosts throughout country.