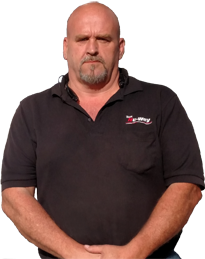 Robert Kitchen
Professional Driver
Bob Kitchens is a 20+ year veteran of the trucking industry and a 7 year employee of Nu-Way Transportation. Bob services one of our dedicated customers by completing a local delivery route out of Lillington, NC. Bob's willingness and dedication to serve our customer over the years has solidified his role as a valuable member of Team Nu-Way.
Bob takes pride in his daily duties as lead driver which includes overseeing nine drivers and assisting with the customer's transportation needs.  Bob's willingness to help and dedication to our customer is evident each and every day.  Bob does not plan on stopping there; he hopes for continued growth that will one day support the opportunity for a local management position.    
Fortunately for Bob, his job at Nu-Way allows him daily home time.   During his time off, Bob likes to spend time with his family, vacationing at the beach and playing football.  Just as important, is the time spent with his pets.  Seven years ago Bob and his wife were at a local dog pound searching for a dog when something across the street caught Bob's eye – a white Nu-Way day cab truck with red and black swooshes.  At the time, Bob was a 20+ year over the road veteran looking to spend more time at home.  After doing some research, Bob was determined to join the Nu-Way team and he did just that.  In the end, Bob and his wife didn't get a dog that day, but they did get a lifelong companion in Nu-Way.
Need a customized solution?
We listen, learn, collaborate, design and implement a distribution plan that works for your business.
Contact Us