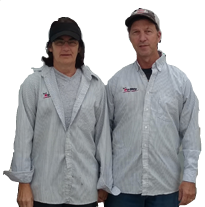 Mike and Elaine Summers
Professional Team Drivers
Mike and Elaine Summers have been running as a "team" at Nu-Way for 3 years. They service our cryogenic customer Praxair, running from coast to coast, delivering to the ports and everywhere in between. Prior to Nu-Way, Mike spent 30 years in the transportation industry, the majority of that with Frito Lay. Elaine, on the other hand, transitioned out of the IT field 5 years ago to join Mike in transportation. She spent the prior 20 years as a self-proclaimed "computer geek". While at Nu-Way, they have, in a way, switched roles from their prior careers as now Mike prefers to handle the on board computer work and Elaine enjoys the inspection and upkeep of the equipment.
Before choosing Nu-Way as their employer, Mike and Elaine researched, for over a year, on what they deemed important for this new adventure.  They determined that quality equipment, pay based on hub miles and 401K would be necessary.  Nu-Way provided all 3, as well as a Safety Culture that puts safety first.   Many companies talk about their safety culture but the Summer's state, "it is truly is a top priority at Nu-Way and with their customer". 
They also appreciate the company's commitment to get them back home when promised.  Being on the road for extended periods of time, they cherish their home time and enjoy spending it catching up with family. The two of them enjoy the outdoors very much and try to take it in when possible through walking, hiking and motorcycle rides.  They are both thankful for the time they are able to spend together and the beautiful scenery they get to see as they travel the country. 
The Summers are a fantastic example of the team culture we embody as a company and we are grateful for all their efforts. If you are interested in finding out more about team opportunities or solo driving positions please contact Recruiting at careers@nuway.com or by calling (309)834-2017.
Need a customized solution?
We listen, learn, collaborate, design and implement a distribution plan that works for your business.
Contact Us