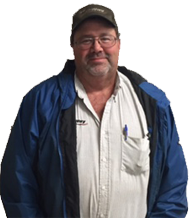 Gary Hancock
Professional Driver
Gary Hancock is a 35+ year veteran of the trucking industry and a 10+ year employee of Nu-Way Transportation. The last 33 years of his career has been dedicated to one customer, a metals manufacturer delivering product all across the Midwest. Of Gary's many daily stops, he often finds himself navigating through difficult jobsites in order to complete his deliveries on time and perhaps most importantly, safely. Dedicated, experienced and safe drivers are key to the success of Nu-Way Transportation and Gary is exactly that.
Gary has seen a lot of changes and challenges over his 33 years servicing this one customer.  Since joining Nu-Way 10 years ago, Gary says he finds it easier to provide the service this customer deserves and expects.  The communication and support from all at Team Nu-Way has helped Gary make this possible.  The equipment has helped as well.  And Gary agrees.  He is impressed with the equipment that Nu-Way runs and is quick to add, "I have been handed the keys to a new tractor 3 times since joining Nu-Way".
Outside of work, Gary likes spending time with his family, particularly camping with them.  It has been such an enjoyable hobby that he actually purchased a fifth wheel travel trailer and goes camping as often as time permits.  While outdoors, Gary also enjoys his time by the water, rod & reel in hand, wetting a line or two.  Just as much as Gary enjoys the outdoors, Gary likewise, enjoys spending time with his grandkids. 
Nu-Way strives to be the best dedicated transportation provider in the industry.  Drivers like Gary Hancock help us make that possible.  His loyalty, his skill set and his commitment to safety makes him a most valuable member of the Nu-Way team.  Keep up the fantastic job Gary!
Need a customized solution?
We listen, learn, collaborate, design and implement a distribution plan that works for your business.
Contact Us