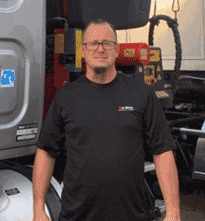 Dustin Brunner
Professional Driver
In July of 2006, Dustin Brunner joined Team Nu-Way as a driver for the McElroy Metals account. Dustin drove for McElroy before they became a customer of Nu-Way and was happy to stay with the account as a driver for Nu-Way. Dustin's role is integral, in that he operates a mounted crane as part of his duties for customers both residential and commercial that may not have the on-site equipment for his deliveries.
Dustin primarily works in Michigan, Indiana, and Ohio delivering metal roofing and siding. When asked what makes him proud to be a Nu-Way driver, he spoke about how he enjoys working for a company that has higher standards. He is proud to be a part of a company that works with and maintains brand new equipment and loves the compliments he receives from customers about his work, appearance, and professionalism.
Dustin's most memorable moment working for Nu-Way was last winter when he had an issue at home and Nu-Way took care of him and allowed him time off. Dustin feels like he is a part of a solid team and works with people that care about him. His favorite part about working for Nu-Way is that his experience was like "night and day" compared to his previous employer while working on the same account.
While off work, Dustin enjoys spending time with his wife and three children. In the future he hopes to enjoy long motorcycle trips with his wife. When asked about career goals Dustin says he wants to continue doing what he loves, running routes for Nu-Way Transportation on the McElroy account.
After 13 years of dedicated service with Nu-Way, Dustin is and continues to be a valuable member of the Nu-Way Team.
Need a customized solution?
We listen, learn, collaborate, design and implement a distribution plan that works for your business.
Contact Us