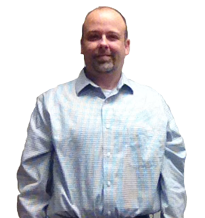 Chad Whitlock
Transportation Manager
Chad Whitlock, a 14 year veteran of Nu-Way Transportation, has played an integral part in the operations of our McElroy Metals account since its inception. Currently, Chad over sees 10 facilities throughout the country including the management of the onsite personnel that supports the day to day operations.
Nu-Way, known for its family culture, takes the term literal in Chad's case. Based on Chad's previous management experience, his Uncle recruited him to join Team Nu-Way. Today, they work together, with an incredible support staff, to fulfill and surpass the customer's expectations. As a result, this has led to the expansion of our services with this customer. Chad takes great pride knowing that he and his team played a vital role.
Even with these responsibilities, Chad aims to find balance in his life and that starts with putting a high priority on his family. He and his wife are the proud parents of two daughters whom they cherish, even as they enter their teenage years. Additionally, Chad is an avid Cubs fan and has high expectations for their future. When not rooting for his "Cubbies", Chad enjoys fishing even if he "strikes out".
Chad has found a home at Nu-Way and we are grateful for his efforts and commitment to excellence. Nu-Way could not accomplish all it does without great team members like Chad. Just as Chad has high hopes for the Cubs "next year", Nu-Way has even higher hopes for the future knowing we have Chad in our lineup.
Need a customized solution?
We listen, learn, collaborate, design and implement a distribution plan that works for your business.
Contact Us